The Chicago Bears didn't have a pick until the third round (75th pick) of this years NFL Draft, and with the least amount of picks in team history (five), no one expected much of the Bears. After some major additions in the offseason, including perennial pro-bowl defensive end Julius Peppers and the former Vikings starting running back Chester Taylor, the Bears still had failed to address their most pressing need, the offensive line. It was unclear in what direction the Bears would head with their picks because they also had some weak spots in the secondary.
Major Wright Safety Florida (3rd Round-75th Pick)
Major Wright was among the players on my pre-draft list of sleepers I'd love the Bears to take. When I saw that they drafted Major Wright with their pick I was about as ecstatic as someone could be about a third round pick. Major Wright is comparable to former Bears safety Mike Brown but believe it or not lays harder hits (lets just hopes he can stay a little healthier than Brown). Starting 33 games in his three years at Florida, Wright had 165 tackles and eight interceptions in a tough SEC conference. At 6'0″, Wright has speed running a 4.50 in the 40 yard dash at the NFL Combine. The Bears have drafted a safety in six consecutive draftsand have had trouble filling the slot with a consistent player, starting 20 different strong safeties under Lovie Smith. In a safety heavy draft, the Bears lucked out with getting Major Wright in the third round, in any of year he would have been a first or second rounder.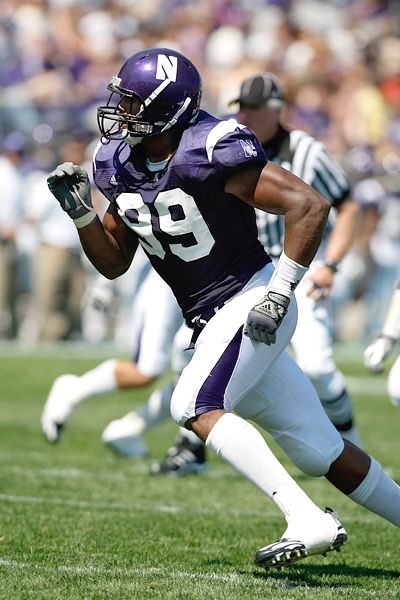 Corey Wootton DE Northwestern (4thRound- 109th pick)
You might ask why the Bears took a defensive end in the fourth round out of Northwestern, and more importantly a player coming off of an ACL tear and a four sack season. Ifound myself asking the same question but when I took a look at Woottons entire body of work I was really happy that the Bears got him. In 2008 Wootton was All Big-Ten and a projected first round pick (some projections had top ten). He had 10 sacks for the Wildcats in 2008 before tearing his ACL in the Outback Bowl. Wootton was expected to go in the second or third round this year but fell right into the Bears lap at the 109th slot. If he is able to get back to the form he was in before the ACL tear, the Bears have got themselves a huge steal. Coming back to 100% from injuries that are that severe is unlikely but that was a risk the Bears were willing to take.
Joshua Moore CB Kansas State (5th Round- 141st Pick)
After going for a safety in the third round, the Bears looked to add depth to the cornerback position. While he has some speed running a 4.55 at his pro-day, he really lacks strength; completing only two repetitions of the 225 lbs. bench press. In a physical NFL, Moore may have trouble keeping up. He had six interceptions in three seasons at Kansas State. After releasing Nathan Vasher during the offseason the secondary was already young as it was, and lacked a solid second corner. While Moore, 5'11″, is taller than last years Bears third round pick DJ Moore (5'9″), he wasnt the biggest corner available at this spot. Moore looks to compete with Zachary Bowman and Corey Graham for a spot.
Dan LeFevour QB Central Michigan (6th Round- 181st pick)
The most shocking pick by Jerry Angelo was drafting a Quarterback in the sixth round. Some had LeFevour as the fifth best quarterback prospect in the draft and when the Bears have the philosophy of taking the "best available player" it was no doubter that LeFevour would go off the board with 181st pick. LeFevour compares to Florida's Tim Tebow but with better statistics. Playing at a MAC school, LeFevour has the FBS (Division I) record for total touchdowns with 149. He also is the only player in NCAA history with over 12,000 passing yards and 2,500 rushing yards. The Bears hadnt signed a veteran quarterback, and had only Caleb Hanie behind Jay Cutler on the depth chart. LeFevour who went to high school at Benet Academy near Chicago, may have been a surprising pick, but for his value, I think was a good one.
J'Marcus Webb OT West Texas A&M (7th Round- 218th Pick)
The Bears waited too long to address their biggest need. While Webb could contribute down the road for the Bears, he is not likely to make the team. Although he played at West Texas A&M, he played in twelve games for the Texas Longhorns before transferring after his freshmen year. At 6'8″ and 335 pounds, Webb has NFL size and with a weak Bears offensive line may see some playing time.
Final Analysis:
Overall the Bears failed to draft a offensive lineman with one of their early picks but addressed their other big needs. For having only five picks, all of which were after the second round, I thought the Bears had an above average draft. While the Bears took some risk, they took good "value" picks. Look for Major Wright to make a impact at some point during his rookie season. They didnt draft a lineman early but they didnt feel at the picks they had they could get a player worth taking with that pick. They may look to add recently released G Alan Faneca to their roster.