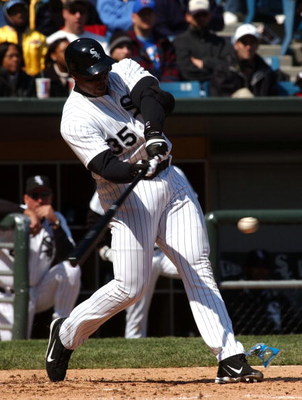 by Nick Szafranski
When you think of steroids in baseball several players come to mind; Barry Bonds, Jose Canseco, Sammy Sosa, Mark McGwire, Roger Clemens and more recently as A-Rod, David Ortiz and Manny Ramirez. Steroids have been around since the 1930's but really started to surface during the 1980's and a high percentage of players were using during the 90's and 2000's."The Steroid Era" which presumably started in 1988, will always be associated with steroids whether the MLB ever officially puts an asterisk next to the names of the players that came forward.
With the retirement of former White Sox player Frank Thomas on Thursday, this brought up the question; of the hitters not tied to steroids who played during the "Steroid Era," who is the best?
It may very well be "The Big Hurt."
Eliminating the names of Barry Bonds, Mark McGwire, Alex Rodriguez, Manny Ramirez, Rafael Palmeiro and Sammy Sosa because of their ties to Steroids, the list of elite players during this era really narrows.
Only a few other players' have had outstanding careers spanning the time period; including Ken Griffey Jr., Frank Thomas, Craig Biggio, Mike Piazza, and Mark Grace.
At 22, Frank Thomas made his major league debut o August 2nd, 1990, at the height of steroid usage. In his first full season he finished third place in the AL MVP voting batting .318, hitting 32 home-runs and slugging in 109 RBI.
In 1993, Thomas became the first White Sox player to win the MVP award since Dick Allen in 1972. Hitting 41 home-runs with 128 RBI, he led the White Sox to the American League Championship Series where they fell to the eventual World Series Champion Toronto Blue Jays.
In 1994, he became the second first basemen to win back-to-back MVP, hitting .353, 38 home-runs and 101 RBI in a season shortened by 49 games. Between 1991 and 1997 Thomas finished in the top 10 every year for AL MVP voting. His five all-star appearances, four silver slugger awards, a comeback player of the year award in 2000 and a 2005 World Series ring put him among the greats of all-time.
His 521 career home-runs puts him at 19th on the all-time list behind several tainted names, also his 269 home-runs puts him only behind steroid user David Ortiz for most as a designated hitter.
Perhaps the most impressive stat of them all is that Frank Thomas became part of an elite class of four players including Mell Ott, Ted Williams and Babe Ruth to have at least a .300 batting average, 500 home runs, 1,500 RBI, 1,000 runs and 1,500 walks in a career.
Thomas' longevity solidified his name in history. In 2006 after leaving the White Sox for the Oakland A's, Thomas placed fourth in MVP voting finishing the season with an amazing 39 home-runs at the age of 38.
Having played football at the University of Auburn on a scholarship, Frank avoided many steroid accusers because he stood at 6′5″ and weighing in at 257 lbs throughout his lengthy career.
Mark Grace had the most hits in 1990's, Craig Biggio is a part of the 3000 hit club, and Mike Piazza may be the best catcher of all-time but none of them compete with the numbers Ken Griffey Jr. and Frank Thomas put up.
While Griffey had a little over one hundred more home-runs than Thomas, Frank batted more than fifteen points higher. Frank also had a .417 OBP while Kenny had a .371 OBP. Although Griffey had more RBI in over 300 more games played, their statistics just about evened out.
Both players regardless of era would be considered among the best players of all-time. Had Griffey not been injured as often he may have won more than one MVP, and if the "Steroid Era" continues for many more years Albert Pujols will be considered the best non-steroid user in the era. However with all this said from 1988 to 2010 in a time where "juicing" took over the game, one player emerged as the leader of the anti-drugs, "The Big Hurt.